DOWNLOAD FOR FREE OUR APP ABBRACCIO MX FROM
Blvd. Francisco Medina Ascencio 2590
The ancestors of our founders emigrated from the small agricultural town of Corleone in Sicily. When they arrived at the end of the 1890s, they brought with them a trunk full of hopes, dreams and recipes that had been transmitted for generations.
The recipes were simple but full of flavor. And like most Italians who harvest the land, they took pride in preparing their dishes with the freshest ingredients.
Our love for cooking came naturally, as we were raised in the kitchens of our mothers and grandmothers. Today we are proud to get the best ingredients from anywhere in the world and make each dish with love.
Food is and has been an important part of our lives; cause, nothing makes us happier than sharing our passion with you. Buon appetito.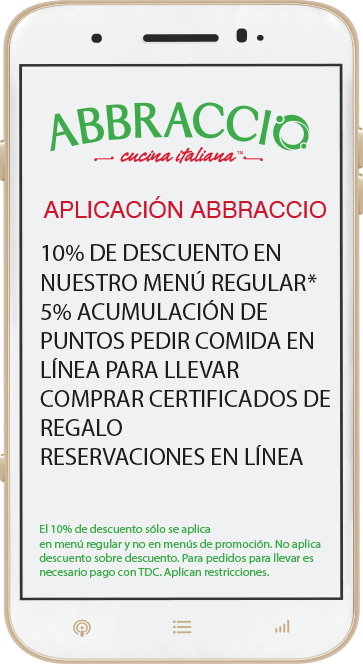 Amici "Friend" is our loyalty program, for a limited time is totally free. You just have to download our ABBRACCIO MX App in your app store, enter your data and that's it.
All our AMICI get 10% discount when you consume with us, you will also accumulate 5% in points that will help you to pay consumption and get special rewards.
Order your food online, in take-out orders you can use our online ordering platform, your order will be ready when you come to pick it up. This service is only for takeout.
Buy gift certificates online, for you and your friends, buy virtual certificates to enjoy the taste of ABBRACCIO.
Make your reservations online, reserve a table from your application.
We are developing more benefits, such as being able to transfer your points to a friend or family member, among other features.
Take advantage of our application that is, currently, absolutely FREE!
© 2020 All rights reserved
Made with
IN CLICHé